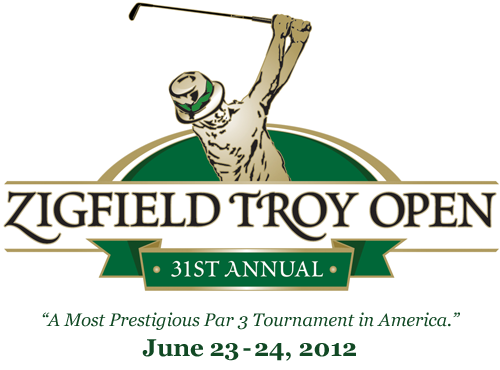 After finishing in second place in four Zigfield Troy Opens, including three times in playoff losses, Sumeet Arora of Woodridge, IL finally shed the bridesmaid title at the 2012 ZTO.  He did it in record fashion, tying the 9 hole and 18 hole course records set by Josh Butterfield in the 2006 ZTO.
In the opening round on Saturday, Arora was at 4 under par when he arrived at the 9th tee.  Before he left the tee, he had tied the 9 hole course record at 6 under par after aceing a sand wedge 86 yards into the hole tucked behind the right-hand bunker.  Ironically, after a bogey on the same hole the second time around, he totaled 1 under on his back nine to tie the 18 hole course record of 47, seven under par.
Arora never lost the lead on Sunday, but was tied for a short while with Chris Daly and Rick Grassel at 5 under with 5 holes to play. He put the tournament away with birdies on his 15th and 16th holes, and an easy par on the difficult 8th hole, his 17th of the day. Sumeet had a three shot lead as he stood on the tee of the final hole.  The 80 yarder again extracted some revenge on Sumeet as he missed the green and bogeyed, while playing partner Jason Buffone birdied, reducing his victory margin to one stroke.
It was an extra meaningful weekend for Arora for multiple reasons. First, because he wasn't sure he would be able to compete in the ZTO after having to quit during the U.S. Publinx qualifying just three days earlier because of a pulled groin muscle. Second, because he was finally able to shed the bridesmaid's label in the event he has tried to win since 2002.  Third, because he won in record tying fashion.  And fourth because he was victorious over Buffone, the two-time defending ZTO champion and recent Joliet Amateur champ, who had beaten Arora for the 2010 title in a one hole playoff and was trying to be only the second ZTO champion to claim three straight Zigfield Troy Straw Hats in the tournament's 31 year history.
Special mention must be made of Tres Steffey's six-under par 48 on Sunday.  The course is always set-up with longer tee shots and tougher hole locations for Sunday, and Steffey's stellar round was three strokes better than any other competitor.
Meanwhile, Helene Ault of Downers Grove, IL repeated as champion in the Women's Division, coming back from an eight stroke Saturday defecit to defeat first-round leader Kathy Braun 134 to 136.  Both winners of the Senior's and Super Senior's Division shot three-over par 111.  David Lee of Waukegan, IL, 2001 ZTO Champion, took the Senior's Division, while Vince Militante of Darien, IL won the Super Senior's Division.  Finally, Bret Hassels of Geneva, IL won the High School Division with a score of ten-over par 118.
The 105 entrants this year created the largest ZTO field in over a decade and the strongest field in its history.  74 players competed in the open division of the 36 hole tournament won by Arora.
2012 ZIGFIELD TROY 36 FINAL RESULTS
| Place | Contestant | Score | Final Score |
| --- | --- | --- | --- |
| 1. | Sumeet Arora | 21/26 – 47, 28/27 – 55 | 102 |
| 2. | Jason Buffone | 26/24 – 50, 28/25 – 53 | 103 |
| 3. | Cully Johnston | 24/29 – 53, 28/23 – 51 | 104 |
| 3. | Rick Grassel | 27/26 – 53, 24/27 – 51 | 104 |
| 3 | Chris Daly | 25/24 – 49, 27/28 – 55 | 104 |
| 6. | Tres Steffey | 28/29 – 57, 25/23 – 48 | 105 |
| 6. | Kirk Blakney | 28/23 – 51, 26/28 – 54 | 105 |
| 8. | Ryan Patera | 26/24 – 50, 29/28 – 57 | 107 |
| 9. | Larry Brady | 27/28 – 55, 27/26 – 53 | 108 |
| 9. | Aldo Buffone | 27/25 – 52, 29/27 – 56 | 108 |
| 9. | Josh Molnar | 27/26 – 53, 29/26 – 55 | 108 |
| 12. | Andy Roderique | 28/26 – 54, 28/27 – 55 | 109 |
| 12. | Burt Beyer | 25/26 – 51, 30/28 – 58 | 109 |
| 14. | Ryan Grassel | 27/30 – 57, 26/27 – 53 | 110 |
| 14. | Greg Roderique | 7/25 – 52, 28/30 – 58 | 110 |
| 14. | Josh Butterfield | 30/27 – 57, 26/27 – 53 | 110 |
| 17. | Lloyd Roth | 27/27 – 54, 28/29 -57 | 111 |
| 17. | Mark Bermele | 25/26 – 51, 30/30 – 60 | 111 |
| 17. | Alex Hallahan | 25/29 – 54, 29/28 – 57 | 111 |
| 17. | David Lee | 27/28 – 55, 30/26 – 56 | 111 |
| 17. | Vince Militante | 26/26 – 52, 30/29 – 59 | 111 |
| 22. | Jake Groselak | 56/56 | 112 |
| 22. | Victor Tyson | 57/55 | 112 |
| 22. | Steve Kois | 55/57 | 112 |
| 22. | Chris Beyer | 56/56 | 112 |
| 26. | Anthony Lodovico | 55/58 | 113 |
| 26. | Dan Moffett, Jr. | 55/58 | 113 |
| 26. | Bill White | 53/60 | 113 |
| 29. | Mark Arentsen | 55/59 | 114 |
| 29. | Gary Norgren | 55/59 | 114 |
| 31. | Robbie Pezza | 57/58 | 115 |
| 31. | Rob Hassels | 56/59 | 115 |
| 33. | Dustin Craig | 56/60 | 116 |
| 33. | Nick Szerzinski | 59/57 | 116 |
| 35. | Ryan Frederick | 56/61 | 117 |
| 35. | Gene Wensel | 55/62 | 117 |
| 37. | John Baer | 58/60 | 118 |
| 37. | Brian Barry | 58/60 | 118 |
| 37. | Kyle Grassel | 57/61 | 118 |
| 37. | Brett Hassels | 58/60 | 118 |
| 41. | Connor Harmon | 59/60 | 119 |
| 41. | Patrick Herrod | 64/55 | 119 |
| 43. | Angelo Barbaccia | 58/62 | 120 |
| 43. | Scott Chrenka | 54/66 | 120 |
| 43. | Tim Cordes | 62/58 | 120 |
| 43. | Joseph Fitzgerald | 59/61 | 120 |
| 43. | Patrick O'Brien | 58/62 | 120 |
| 43. | Ken Zilka | 59/61 | 120 |
| 49. | Matt Arient | 61/60 | 121 |
| 50. | Jim Cavanaugh | 59/63 | 122 |
| 50. | Chris Kelly | 58/64 | 122 |
| 52. | Kevin Becker | 61/62 | 123 |
| 52. | Claude Harmon | 60/63 | 123 |
| 52. | Eddie Lieser | 62/61 | 123 |
| 52. | Dan Moffett, Sr. | 61/62 | 123 |
| 56. | Brandon Bolling | 58/66 | 124 |
| 56. | Joe Getz | 64/60 | 124 |
| 56. | Austin Hart | 56/68 | 124 |
| 56. | John Kujawa | 58/66 | 124 |
| 56. | Thomas Varner | 61/63 | 124 |
| 61. | Phil Litchfield | 60/65 | 125 |
| 61. | Ken Toigo | 65/60 | 125 |
| 63. | Timothy O'Brien | 60/66 | 126 |
| 64. | Steve Brindle | 60/67 | 127 |
| 64. | Dan Litchfield | 68/59 | 127 |
| 64. | John O'Connor | 63/64 | 127 |
| 67. | Kevin Grizzoffi | 61/67 | 128 |
| 67. | Bob Vavra | 62/66 | 128 |
| 67. | Ryan Walaszek | 64/64 | 128 |
| 70. | Jim Bristow | 65/64 | 129 |
| 70. | Robert Castanares | 63/66 | 129 |
| 70. | Jim Krol | 65/64 | 129 |
| 70. | Kyle Krol | 62/67 | 129 |
| 74. | Hans Farley | 59/71 | 130 |
| 74. | Edward Fitzgerald | 68/62 | 130 |
| 74. | Brian Summers | 59/71 | 130 |
| 74. | Cal Thurlby | 65/65 | 130 |
| 78. | Jim Bailey | 63/69 | 132 |
| 78. | John Becker | 70/62 | 132 |
| 78. | Matt Runyon | 63/69 | 132 |
| 81. | Helene Ault | 72/62 | 134 |
| 81. | Jerry Hoke | 66/68 | 134 |
| 83. | Joe Przepiorka | 66/69 | 135 |
| 84. | Kathy Braun | 64/72 | 136 |
| 84. | Kevin Summers | 63/73 | 136 |
| 86. | Michael Walaszek | 69/68 | 137 |
| 87. | Darren O'Leary | N/A | 138 |
| 87. | Ed Restificar | 74/64 | 138 |
| 87. | Charlie Reyer | 67/71 | 138 |
| 90. | Peter Hamot | 70/70 | 140 |
| 91. | George DiMatteo | 70/73 | 143 |
| 92. | Harry Spataro | 73/71 | 144 |
| 93. | Tracy Summers | 77/73 | 150 |
| 94. | Matthew Walaszek | 74/77 | 151 |
| 95. | David Walaszek | 80/76 | 156 |
| 96. | Allison Becker | 85/77 | 162 |
| 97. | Nick Schaeflein | 90/80 | 170 |
| N/A | John Gollwitzer | 54/WD | N/A |
| N/A | Dan Petrarca | 65/WD | N/A |
| N/A | Bill Ruffin | 68/WD | N/A |
| N/A | Gene Leeb | 69/WD | N/A |
| N/A | Robert Clinton | 74/WD | N/A |
| N/A | Julie O'Toole | 80/WD | N/A |
| N/A | Russell Anderson | WD | N/A |
| N/A | Debra DiMatteo | WD | N/A |
Total Field: 105 players
ZIGFIELD TROY OPEN – WOMEN'S DIVISION
| Place | Contestant | Score | Final Score |
| --- | --- | --- | --- |
| 1. | Helene Ault | N/A | 134 |
| 2. | Kathy Braun | N/A | 136 |
| 3. | Tracy Summers | N/A | 150 |
ZIGFIELD TROY OPEN – SENIOR'S DIVISION
| Place | Contestant | Score | Final Score |
| --- | --- | --- | --- |
| 1. | David Lee | N/A | 111 |
| 2. | Ken Zilka | N/A | 120 |
| 3. | Joe Fitzgerald | N/A | 120 |
ZIGFIELD TROY OPEN – SUPER SENIOR'S DIVISION
| Place | Contestant | Score | Final Score |
| --- | --- | --- | --- |
| 1. | Vince Militante | N/A | 111 |
| 2. | Gene Wensel | N/A | 117 |
| 3. | Angelo Barbaccia | N/A | 120 |
| 4. | Dan Moffett, Sr. | N/A | 123 |
ZIGFIELD TROY OPEN – HIGH SCHOOL DIVISION
| Place | Contestant | Score | Final Score |
| --- | --- | --- | --- |
| 1. | Brett Hassels | N/A | 128 |
| 2. | Eddie Lieser | N/A | 123 |
| 3. | Austin Hart | N/A | 124 |