Josh Butterfield wins 25th Zigfield Troy Open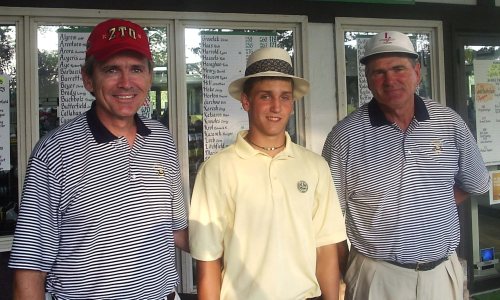 Tim Troy, 2006 ZTO Champion Josh Butterfield, and Dennis Troy
The weekend of July 29 and 30 was one for the Zigfield Troy Open record books. Josh Butterfield of Oswego won in convincing fashion with a 102, six under par 36 hole score. His first round 47, seven under par, was an 18 hole Zigfield Troy Par 3 Golf Course record, as was his back nine 21, six under par. He birdied the last five holes, which is probably another record for consecutive birdies on the par 27, Woodridge, IL nine-hole layout.
Temperatures near 100 degrees both days didn't prevent eight golfers from shooting under-par scores on Saturday. However, the Par 3 golf course did not yield any on Sunday as the layout was set-up tougher. Butterfield's 55, one-over par on Sunday was equal to, or better than his nearest competitors, Greg Roderique of Aurora and Sumeet Arora of Woodridge, who both shot 50 on Saturday. Roderique shot 55 to Arora's 57 to finish with the runner-up honors at 105, three under par.
Other division winners this year included: Gail Avgeris, Western Springs 147 (Womens), David Henry, St. Charles 120 (Seniors), David L. Griffins, Bolingbrook 121 (Super Seniors), and Tommy Walker, Woodridge 116 (High School).
Final results – 2006 Zigfield Troy Open
Zigfield Troy Par 3 Golf Course
2,186 yards – Par 54/54 108
1. Josh Butterfield, Oswego 47/55-102
2. Greg Roderique, Aurora 50/55-105
3. Sumeet Arora, Woodridge 50/57-107
4. Bill White, Lisle 52/56-108
5. Scott Dessing, Long Grove 52/56-108
6. John Gollwitzer, Chicago 52/57-109
7. Michael Fastert, Des Plaines 55/56-111
8. Andy Roderique, Aurora 58/54-112
9. Rick Grassel, Chesterton, IN 56/57-113
10. Larry Brady, Barrington 55/58-113
Rob Hassels, Geneva 53/60-113