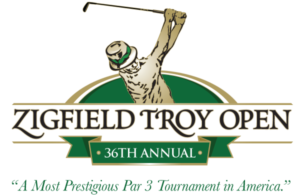 RAYMOND KNOLL WINS A 2ND STRAW HAT AT THE
36TH ZIGFIELD TROY OPEN
Raymond Knoll of Naperville, IL won his 2nd Zigfield Troy Straw Hat at the 36th Zigfield Troy Open on July 1st & 2nd. This time he did it in style, tying the tournament record with only one bogey to go against 8 birdies over his 36 holes. The annual event, played at the Zigfield Troy Par 3 Golf Course in Woodridge, IL hosted a field of 63 amateurs and 2 professionals on the par 27 nine hole course.  Knoll, who just finished 4 years on the University of Iowa golf team, and is now considering a professional career, took the 18 hole lead on Saturday with a four-under par 50. One stroke behind with a score of 51 was Tres Steffey of Joliet, while Christopher Beyer of Hometown, IL was two shots back. A total of five golfers managed to break par on Saturday.
Knoll took control early on Sunday, birdying holes 2, 4, and 7, and increasing his lead to three over Steffey as they began the final 9 holes. Knoll then put it on automatic pilot and made nine straight pars to tie the event's record of 7-under par and secure his 2nd title in 4 years. Steffey finished alone in second at 2-under par, five shots back.
Defending Champion Kelly Grassel of Chesterton, Indiana, playing professionally for the second time, won the Women's Division with a score of 2-over par. Other Division winners included Seniors' – Tim Cordes of Wauconda (55, 58/113) Super Senior's – David B. Lee of Waukegan (56, 55/111) and High School – Sean Hassels of Geneva, IL (60, 65/125).
This year's ZTO had two holes-in-one with Kirk Blakney of Joliet acing the 160 yard 3rd, while Eric Lederman of Downers Grove aced the 108 yard 6th.
ZIGFIELD TROY OPEN
July 1-2, 2017
Zigfield Troy Par 3 Golf Course
FINAL RESULTS
36 Holes, Par=108
1. 101 (-7)
Raymond Knoll (26,24/50  24,27/51)
2. 106 (-2)
Tres Steffey (24,27/51  26,29/55)
3. 107 (-1)
Andy Roderique (27,26/53  26,28/54)
Chris Beyer (27,25/52  28,27/55)
5. 109 (+1)
Kirk Blakney (28,28/56  27,26/53)
Michael Fastert (29,26/55  27,27/54)
7. 110 (+2)
Cully Johnston (28,30/58  25,27/52)
Ryan Hewson (28,25/53  30,27/57)
Jack Korzon (27,28/55  28,27/55)
Kelly Grassel (28,28/56  26,28/54)
11. 111 (+3)
David B. Lee (28,28/56  28,27/55)
Lloyd Roth (28,27/55  29,27/56)
13. 112 (+4)
Jason Buffone (29,28/577  27,28/55)
14. 113 (+5)
Tim Cordes (26,29/55  28,30/58)
Greg Roderique (27,29/56  29,28/57)
16. 114 (+6)
Jimmy Roach (32,29/61  26,27/53)
Mark Bermele (29,28/57  26,31/57)
18. 115 (+7)
Rick Grassel (27,32/59  29,27/56)
Eric Lederman (32,29/61  27,27/54)
20. 117 (+9)
Rob Hassels (29,28/57  30,30/60)
21. 118 (+10)
Ryan Patera
Ken Zilka
23. 119 (+11)
Bill White
24. 120 (+12)
Ken Raffenetti
25. 121 (+13)
Burt Byer
26. 122 (+14)
Brett Hassels
Alyna Vaughn
Bob Vavra
29. 123 (+15)
Kipp Imel
30. 124 (+16)
Aldo Buffone
Brad Rendell
Paul Susner
33. 125 (+17)
Sean Hassels
Richard Pyle
Tony Rubino
36. 126 +(18)
Mark Arentsen
Eric Horn
Dave Stephens
39. 127 (+19)
Rich Johnson
Matthew Walaszek
41. 128 +(20)
David Newland
Jared Stewart
43. 129 (+21)
Web Peboontom
44. 130 (+22)
Anthony Mattia
45. 131 (+23)
John Webber
46. 132 (+24)
Sean Copp
Connor Labedz
Doug Schmitt
Ken Toigo
Gene Wensel
51. 137 (+29)
Mike Danyko
52. 139 (+31)
Nicole Hassels
Jack Smith
54. 142 (+34)
Adam Rasmussen
Mike Webber
56. 144 (+36)
Peter J. Hamot
Bob Murphy
Parker Webber
59. 148 (+40)
Kevin Summers
60. 149 (+41)
April Jones
61. 152 (+44)
Hyokyung Lee
62. 165 (+57)
Ben Jones
WD
James Bristow
DNS
Joe Harks
Cody Temper
WOMENS DIVISION
1. Kelly Grassel (56, 54/110)
2. Alyna Vaughn (64, 58/122)
SENIOR MENS DIVISION
1. Tim Cordes (55, 58/113)
2. Rick Grassel (59, 56/115)
3. Rob Hassels (57, 60/117)
4. Ken Zilka (58, 60/118)
SUPER SENIOR MENS DIVISION
1. David B. Lee (56, 55/111)
2. Aldo Buffone (58, 66/124)
3. Rich Johnson (64, 63/127)
4. Web Peboontom (68, 61/129)
HIGH SCHOOL DIVISION
1. Sean Hassels (60, 65/125)