Raymond Knoll wins the 32nd Annual Zigfield Troy Open
Raymond Knoll of Naperville, IL was awarded the traditional Straw Hat at the Zigfield Troy Open the weekend of June 22-23, winning with a three-under par score of 105.  The 36 hole event, played at the Zigfield Troy Par 3 Golf Course in Woodridge, IL featured a field of 103 golfers on the par 27 nine hole course.  Knoll, who will be a freshman at the University of Iowa this fall, took the 18 hole lead on Saturday with a five-under par 49.  One stroke behind with a score of 50 was Lloyd Roth of Willowbrook, IL and Kirk Blakney of Joliet, IL.  In total, ten golfers managed to break par on Saturday.
A rain delay of 75 minutes on Sunday afternoon interrupted play for the last five groups.  The final foursome with Knoll had nine holes left to play, and when golf resumed, he continued to control the leaderboard with five straight pars and a birdie on his 15th hole to move to six-under par overall.  Knoll then bogeyed the final three holes to shoot a 56, two-over par.  Meanwhile, Roth and Blakney struggled, finishing with a 60 and 58 respectively.  Mark Kasanoff of Downers Grove, IL and ZTO past champion Jason Buffone of New Lenox, IL moved up on Sunday to tie for second place with 36 hole scores of 106, two-under par.
Other Division winners on Sunday included: Women's – Mary Grassel of Chesterton, IN (63/67-130), Senior's – Burt Beyer of Oak Lawn, IL (56/58-114), Super Senior's – Aldo Buffone of Schererville, IN (58/59-117) and High School – Brett Hassels of Geneva, IL (57/57-114).  Mary Grassel scored the tournament's only Hole-In-One, hitting her seven iron at the 105 yard second hole on her Saturday front nine.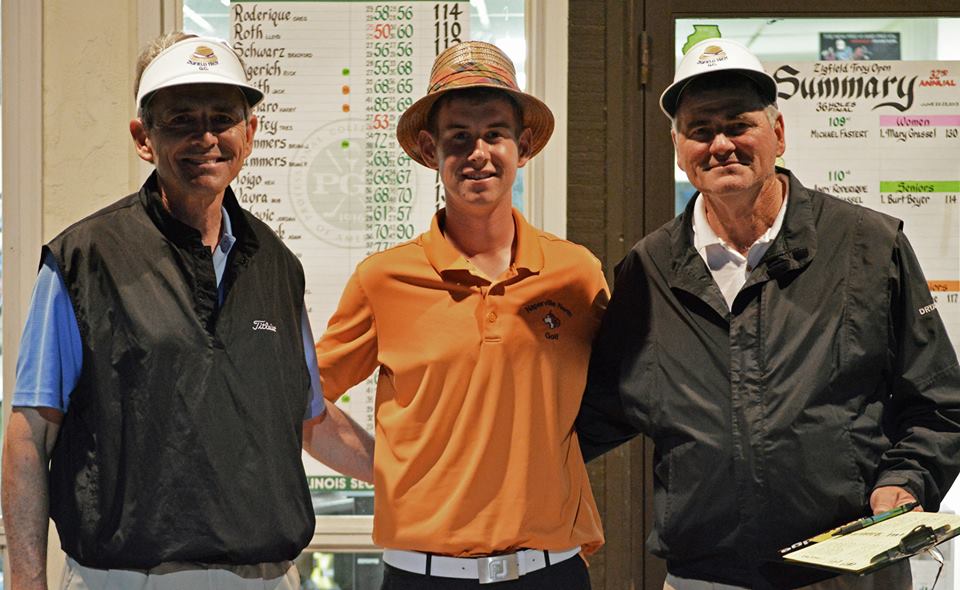 Tim Troy, Raymond Knoll 2013 ZTO Champion, and Dennis Troy
2013 ZTO Top 10
1. Raymond Knoll – Naperville, IL
49/56-105
2. Mark Kasanoff – Downers Grove, IL
55/51-106
2. Jason Buffone – New Lenox, IL
52/54-106
4. Kirk Blakney – Joliet, IL
50/58-108
4. Rick Grassel – Chesterton, IN
51/57-108
6. Michael Fastert – Des Plaines, IL
52/57-109
7. Andy Roderique, Frankfort, IL
55/55-110
7. Kyle Grassel, Chesterton, IN
54/56-110
7. Tres Steffey – Mokena, IL
53/57-110
7. Lloyd Roth – Willowbrook, IL
50/60-110