Tap into the Zigfield Troy PGA Professional Staff's Extensive Knowledge of How to Play Better Golf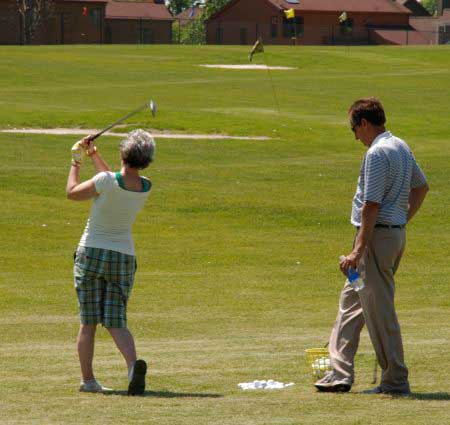 There's more experience at Zigfield Troy Golf than you'll find at many private clubs. Our staff of four professionals – three PGA members and one LPGA apprentice – have over 100 years of combined teaching the fundamentals of the golf swing to players of every skill level – from the first-time beginner who has never touched a club to the veteran who's looking to hone specific types of shots. Whatever guidance your game needs – a single private lesson, a lesson series, or group instruction – is available throughout the week at a time to suit your schedule and at very reasonable rates.
We know you come to Zigfield Troy Golf to relax and have fun. Our role is to help you improve your game and increase your enjoyment.
Every golfer who sets a ball on a tee has the same goal – to strike the ball consistently, to feel that pure pleasure of catching it on the sweet spot and watching the ball soar straight to the target. And then, around the green, to maneuver the golf ball into the hole in fewer strokes.
Mike Troy, Tim Troy, Mark Arentsen, and Patricia Brindle are here to help you find that sweet spot more often, lower you scores, and experience the thrill of personal achievement. For information about the Zigfield Troy instructors, their credentials, teaching approach, availability, and rates, Click Here.
"There is not just 'one right way' to swing a golf club. All you have to do is watch the professionals on television for proof," Mike Troy says. "We believe in creating a swing that is unique to the individual while incorporating some common pre-swing fundamentals."
The Professionals at Zigfield Troy Golf are especially known for working with junior players – from ages 5 through high school. Our junior clinics are conducted from June through July, and are tailored to the learning level of the junior's age and golf experience. For details on this year's program, Click Here.
One of the wonderful things about Zigfield Troy is that, after a lesson or a practice session, you can go play our challenging Par-3 course and finish in 90 minutes or less. With a regulation course, it's often hard to fit another 4-5 hours into your schedule after a lesson, so the things you learned don't get applied right away.
Our instruction options include a consistent-quality grass range, chipping/putting area, practice putting green, computer-aided video, and sheltered/heated stalls for year-round availability.
Start improving your swing and enjoying golf this week. To make an appointment for a lesson, stop by the Zigfield Troy Pro Shop or call (630) 985-9860.
Lessons Make a Great Gift!
Give your spouse, child, or friend a gift they'll love – a better golf game! Purchase a Zigfield Troy Golf Lesson Gift Card. Ask for Gift Card details in the Pro Shop or Click Here to purchase a lesson gift card on-line.