Andy Roderique wins 24th Zigfield Troy Open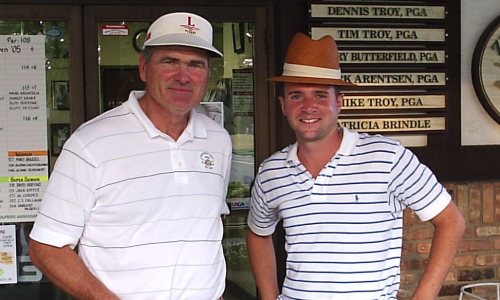 Dennis Troy and 2005 ZTO Champion Andy Roderique
Andy Roderique of Aurora won his 2nd Zigfield Troy Open championship over the weekend of July 16 and 17 in convincing fashion with a six-under par 102, six strokes over 2nd place finisher Jason Buffone.  Roderique and Buffone were tied after the first round with two-under par 52's, but Andy stuffed multiple birdie putts on the back nine on Sunday enroute to the runaway victory.
Other division winners included: Mary Grassel, Chesterton, IN 127 (Women), Aldo Buffone, Schererville, IN 115 (Senior Men), David L. Griffins, Bolingbrook 119 (Super Senior Men) and Peter Tanaka, Naperville 120 (High School).
Final results – 2005 Zigfield Troy Open
Zigfield Troy Par 3 Golf Course
2,186 yards – Par 54/54 108
1. Andy Roderique, Aurora 52/50-102
2. Jason Buffone, Shererville, IN 52/56-108
3. Ryan Grassel, Chesterton, IN 53/55-108
4. Lynn Cordes, St. Charles 54/55-109
5. Josh Butterfield, Oswego 55/56-111
Rick Grassel, Chesterton, IN 56/55-111
7. Greg Roderique, Aurora 58/54-112
8. Tim Cordes, Batavia 55/58-113
Gary Norgren, Bolingbrook 55/58-113
Tres Steffey, Mokena 56/57-113

Congratulations to Joe Gorac of Clarendon Hills on his Hole-In-One during the ZTO!
The 1984 ZTO Champion aced the 5th hole, playing at 111 yards, on Saturday the 16th.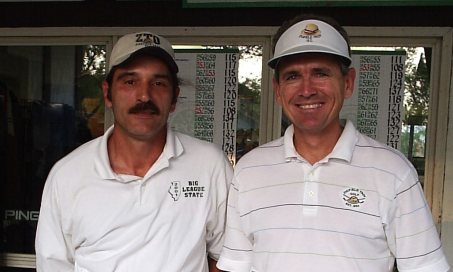 Joe Gorac with Tim Troy