Jason Buffone wins the 30th Annual Zigfield Troy Open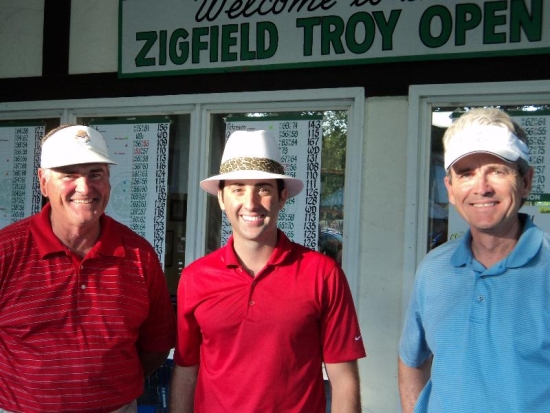 Dennis Troy, 2011 ZTO Champion Jason Buffone, and Tim Troy
One of the hardest achievements in sports is to be a repeat champion.  The same can be said in the world of the Zigfield Troy Open, where the only repeat champion was three-peat champion John Woronick in 1987-89.  That all changed the weekend of June 25-26 at the Zigfield Troy Par 3 Golf Course in Woodridge, IL, when Jason Buffone of Scherrerville, IN won the 30th annual ZTO with a 1-under par 107.  Buffone was one of four golfers to shoot even par 54 on Saturday, two strokes behind Andy Roderique (52), who was attempting to become the first 4-time ZTO winner, and one behind Rick Grassel (53).  Sunday's final foursome featured a first: all past champions, with Roderique, Grassel, Buffone and Mark Arentsen (54).  Roderique made the turn after nine with a 1-over par 28, while Buffone turned in a 1-under par 26 to tie for the lead.  Then, on the 16th hole Buffone birdied and Roderique made bogey to give Jason a one stroke lead.  Buffone took a two shot lead after a birdie to Roderique's par on the 17th.  On #18, Jason made a bogey out of the bunker, but Roderique couldn't sink his birdie putt to tie, thus making Buffone the repeat champion.
Other division winners this year included: Helene Ault, Downers Grove 131 (Womens), Aldo Buffone, Scherrerville, IN 116 (Seniors), Vince Militante, Darien 120 (Super Seniors), and Connor Harmon, Darien 114 (High School)
Also, congratulations go out to Jeff Algrem of Naperville, for his HOLE-IN-ONE Saturday-June 25th on hole number 9 (71 yards), his 18th hole of the day.
Final results – 201 Zigfield Troy Open
Zigfield Troy Par 3 Golf Course
2,186 yards – Par 54/54 108
1. Jason Buffone, Scherrerville, IN 54/53-107
2. Andy Roderique, Peoria 52/56-108
3. Kelly Grassel, Chesterton, IN 56/53-109
4. Nick Buege, Lisle 54/56-110
Rick Grassel, Chesterton, IN 53/57-110
Greg Roderique, Aurora 56/54-110
Victor Tyson, Elmhurst 56/54-110
8. Lloyd Roth, Willowbrook 56/55-111
Bill White, Downers Grove 56/55-111
10. Sumeet Arora, Woodridge 59/54-113
Ryan Grassel, Chesterton, IN 55/58-113
Tres Steffey, Mokena 55/58-113