Paul Dagys wins 27th Zigfield Troy Open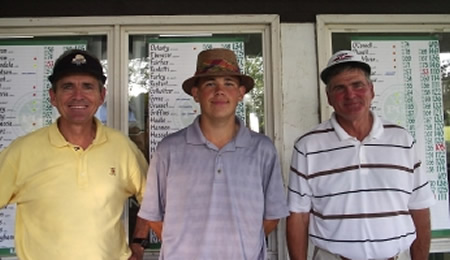 Tim Troy, 2008 ZTO Champion Paul Dagys, and Dennis Troy
In recent years, Zigfield Troy Open winners have usually had a connection to the Lewis University Golf Team, coached by Dennis Troy. This year's ZTO winner, Paul Dagys (pronounced da-GEESE), continued that winning tradition over the weekend of July 19-20 at the Zigfield Troy Par 3 Golf Course in Woodridge, IL. Dagys shot a four-under par 104, to better runner-up and Lewis teammate Peter Tanaka by one stroke. John Gollwitzer finished third and was the only other golfer under par, shooting a 106.
No one could have predicted how wacky the finish would be on Sunday. Dagys was in control of the lead with two holes to play at six under par, one shot ahead of Gollwitzer and two ahead of Tanaka. But Dagys made a double-bogey, and Gollwitzer made a par to suddenly take a one shot lead into the last hole. Gollwitzer's hold on first place vanished as quickly as it materialized when his tee shot on the last hole sailed over the green and into a pine tree. Ultimately, he would get the ball into the hole in six strokes, three more than Dagys' par, making Paul the winner of the ZTO.
Other division winners were: Women's – Helene Ault, Downers Grove, 104; Seniors – Joe Amendala, Aurora, 113; Super Seniors – Angelo Barbaccia, Lisle, 123; High School – Connor Harmon, Darien, 123.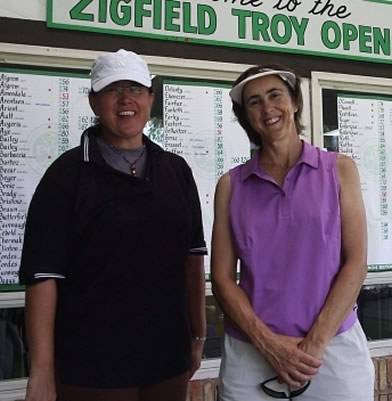 2008 ZTO Women's Division Top 2:
Helene Ault-Champion, with Kathy Braun-2nd
Final results – 2008 Zigfield Troy Open
Zigfield Troy Par 3 Golf Course
2,186 yards – Par 54/54 108
1. Paul Dagys, Oak Forest, 50/54-104
2. Peter Tanaka, Naperville, 50/55-105
3. John Gollwitzer, Chicago, 51/55-106
4. Andy Roderique, Aurora, 57/53-110
5. Lloyd Roth, Downers Grove, 55/56-111
Ken Zilka, Naperville, 58/53-111
7. Chris Beyer, Mokena, 53/59-112
Larry Brady, Barrington, 56/56-112
Sean Fantetti, Downers Grove, 58/54-112
Michael Fastert, Des Plaines, 56/56-112