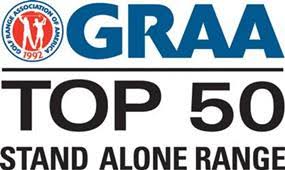 "I loved what I saw. A massive target field dotted with colored flags. An attractive clubhouse shaded by big trees. And lots of golfers, aged 10 to 80. There was a row of mats for inclement weather, but they weren't in use. The tee line was set up a good 40 yards out on the grass, and golfers stretched to the bordering woods." John Garrity, Sports Illustrated writer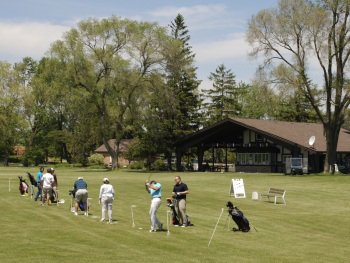 There are thousands of golf ranges across the country, but only a few "demonstrate the highest level of design excellence, community outreach, commitment to teaching and training programs, exemplary customer service and efforts to grow the game of golf," according to the industry's leading publication, Golf Range Magazine. Zigfield Troy Golf in Woodridge, Illinois, meets all of these golfer-friendly standards, and was selected as one of the Top 50 Public Golf Ranges in America for 2022.
SI.Com's "Mats Only" rated Zigfield Troy as the only Midwest facility among its Top 10 Driving Ranges in the country for 2003 (together with ranges in Hawaii, California, Nevada, Arizona, and Florida): "A swell clubhouse and some giant shady trees give this commercial range a country club feel. It's a wonderful place to take your children on a summer evening."
The practice facility at Zigfield Troy includes 60 bluegrass hitting stations – one of the largest in Illinois, mats for use during wet conditions, half a dozen heated/sheltered stations for year-round cool weather comfort, a practice chipping and bunker area, putting green, and of course our nine hole Par-3 layout.
The practice range features target greens guarded by simulated sand bunkers and several colored flags as targets. The flags are always adjusted at 25-yard increments (75 yards to 200) from the tee line so there's no need to guess or step off distances from a fixed marker as at some ranges.
We've got plenty of room, so you can hit every club in your bag (no 'irons only" here). Want to blast that new driver? Grip it and rip it!
There's a hitting station open for you, so come on by. For directions, click here or call (630) 985-9860.
There's no charge for using the putting green, and a modest $6 per hour fee for the practice chipping/bunker green.
BIG HITTERS CLUB
You get $300.00 value that can be used for Range Balls, Par 3 Greens Fees or Short Game Area fees for $200.00.  Purchase a Big Hitters Club Card here or at the Pro Shop.  When your card's value runs low, you can add more value and get $150.00 value for $100.00 or go for the same deal, $300.00 value for $200.00.