The Practice Range, Practice Putting Green, Practice Chipping Green and Miniature Golf Course are now available for use.
GOLF OPERATIONAL RESTRICTIONS
The state of Illinois has updated the Covid-19 restrictions for golf courses effective 6:00AM, May 29th 2020. The current restrictions are outlined below.
▪ Book tee times on-line or by telephone.
▪ Players may be grouped in foursomes.
▪ 10 minute tee time intervals.
Golfers are asked to comply with the following:
▪ Put on your golf shoes at your vehicle.
▪ Bring your own supply of balls, tees, ball markers, and any other equipment needed to play golf.
▪ Bring your own drink and snack.
▪ Maintain 30 feet spacing on the course and 6 feet or more from each other in common areas.
▪ Leave the flagstick in the hole while putting. Do not touch the flagsticks. (We have reversed the hole liner so it's easy to retrieve your ball out of the hole.)
▪ Smooth the sand in the bunker with your feet.
▪ No Handshakes

The Practice Range, Practice Putting Green, Practice Chipping Green and Miniature Golf Course will be open at 50% capacity.
Golf Lessons are now available.
The Pro Shop is open with retail guidelines.
The rest rooms located on the east side of our building will be open.
The Zigfield Troy Par-3 is Fun to Play for All Skill Levels – an Ideal Course for the Beginner to Start and a Precision Challenge for the Better Golfer
"The Zigfield Troy par-three golf course is a great place for young and old alike to play golf. The young can learn the basics of golf before going out on a full-length course and the experienced golfer can hone his short game. If golfers spent more time on their short game (150 yards and in) they'd improve their game tremendously." Bill Hatfield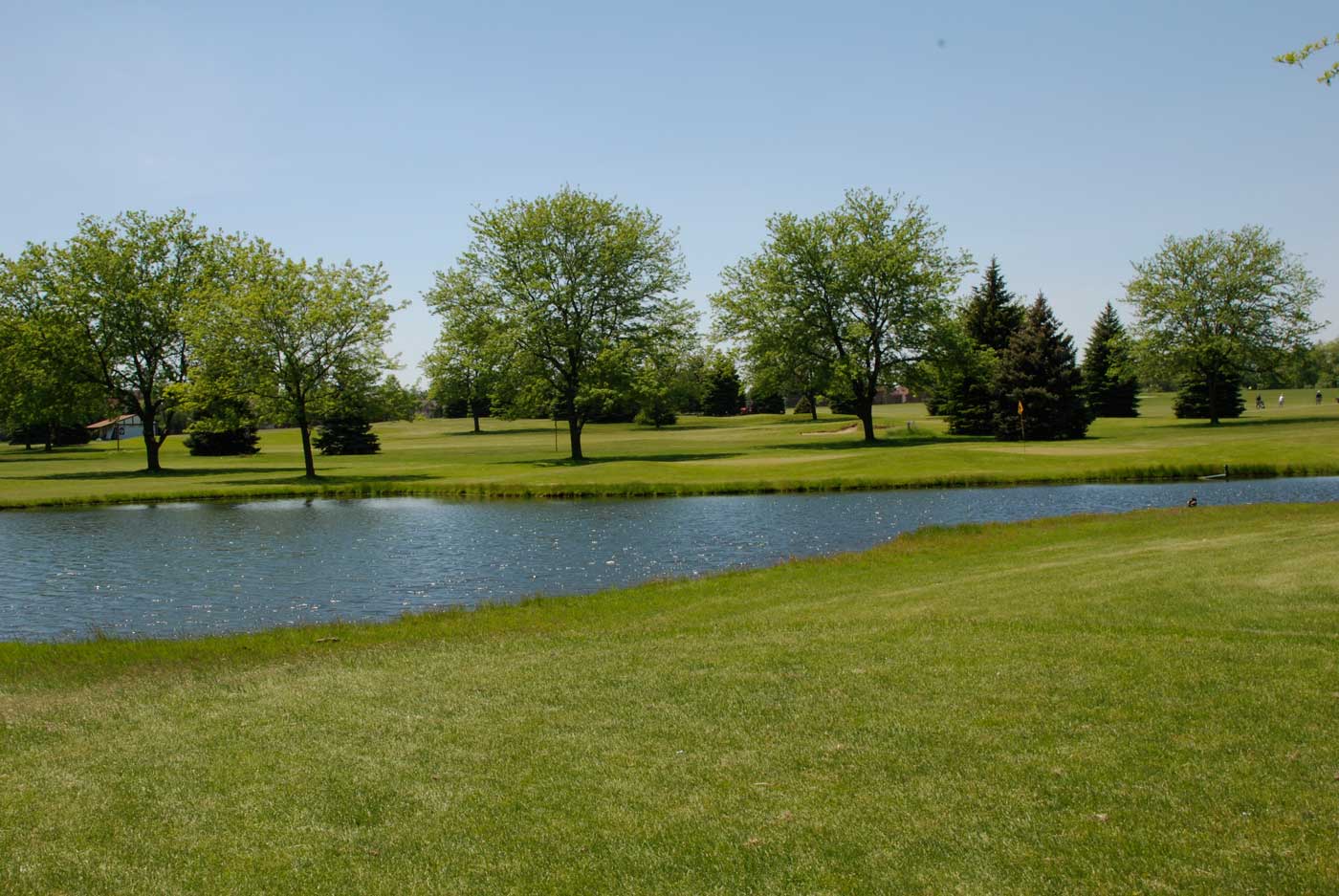 Have less than two hours in your schedule, but you'd like to play a little golf?
You should easily complete a round on our pure Par-3 course in 90 minutes. (Some people have finished in under an hour!)
Looking for a place to take the family that's non-intimidating and doesn't cost a small fortune for greens fees? The Zigfield Troy Par-3 is a perfect place for kids to learn the game without the pressure and frustration of a long regulation course.
Getting ready for a Club Championship or Member-Guest tournament and want to sharpen your short game? Our smaller greens are ideal targets to refine your alignment and build your confidence.
"This isn't your normal par-3 layout. Bunkering and well-contoured greens make it most challenging," noted the Chicago Sun-Times. "It's an excellent place for beginners as well as more experienced players who want to sharpen their game. The deep-faced bunker at No. 2 is a killer."
Since length is not an issue for any golfer on this course, the primary challenge is the greens. There are no double tiers, but all are contoured and some feature fairly steep slopes. They tend to visually trick your eyes into thinking the hole is longer than it really is. The good news: when you hit the green you'll usually have a reasonable distance birdie putt.
"The challenging par 3 course is said to have some of the best greens in the area," reported the Golf.com website. "Keep your shots out of the water hazards on holes #1 and #4, and out of numerous bunkers. The well-manicured greens are fast, and the wide fairways are open."
Unlike executive-length courses, where you pretty much have to haul around your entire bag for a couple of so-called par-4 holes, many golfers can play the Zigfield Troy Par-3 with only one or two clubs plus a putter. The terrain of the course is gently sloping and easy to walk. If you'd prefer to bring all your clubs, pull carts are permitted.
The Par-3 Golf Course opens in April and closes in November, weather permitting. Tee times are scheduled for every 10 minutes. Phone reservations are taken every day.  Par 3 hours are posted below.
Click Here to book a tee time or call (630) 985-9860.