34th Annual Zigfield Troy Open

Zigfield Troy Par 3 Golf Course, Woodridge, IL
Saturday, June 6 – Sunday, June 7, 2015
Final 27 Holes Results
The tournament was shortened to 27 holes to accommodate the Sunday AM rain delays.
There was a three-way tie for first place with Rick Grassel, his son Ryan Grassel and Paul Dagys.  A sudden-death playoff began on hole #1, with Ryan Grassel making a birdie to win the Zigfield Troy Open.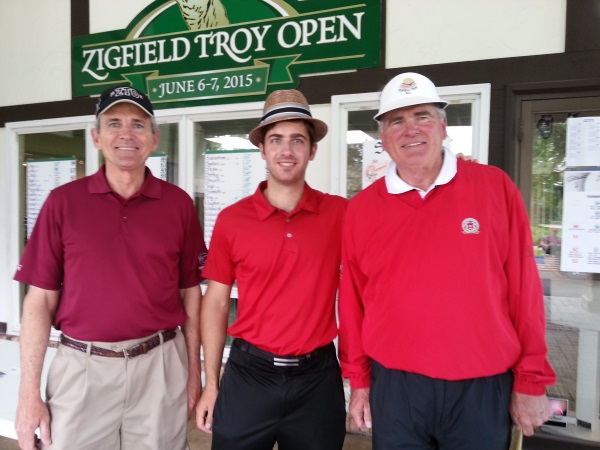 Tim Troy, Ryan Grassel – 2015 ZTO Champion, and Dennis Troy
Place
Name
Residence
Rnd. 1
Rnd. 2
Total
Overall +/-
1
Ryan Grassel
Chesterton, IN

52

28 

80 

-1

 
T2
Paul Dagys
Bolingbrook, IL

52 

28

80 

-1 

T2
Rick Grassel
Chesterton, IN
55

25

80 

-1 

4
Kelly Grassel
Chesterton, IN
54
27
81
E
T5
Tres Steffey
Mokena, IL
54
28
82
+1
T5
Tim Cordes
Wauconda, IL
55
27
82
+1
7
Jason Buffone
New Lenox, IL

52 

31
83
+2
T8
Ian Nebendahl
Naperville, IL
58

26

84
+3
T8
Eric Lederman
Downers Grove, IL
57
27
84
+3
T10
Mark Arentsen
Woodridge, IL
58
28
86
+5
T10
Ken Raffenetti
Chicago, IL
58
28
86
+5
T10
Michael Fastert
Des Plaines, IL
56
30
86
+5
T10
Matt Andersen
Forest Park, IL
57
29
86
+5
T10
Austin Rendell
Winnetka, IL

50 

36
86
+5
T15
Bill White
Downers Grove, IL
59
28
87
+6
T15
Andy Roderique
Frankfort, IL
57
30
87
+6
T15
Cully Johnston
Chicagoo, IL
56
31
87
+6
T18
Ryan Walaszek
Downers Grove, IL
59
29
88
+7
T18
Jason Miller
Chicago, IL
59
29
88
+7
T20
Greg Roderique
Naperville, IL
62
27
89
+8
T20
Burton Beyer
Oak Lawn
61
28
89
+8
T20
Lloyd Roth
Willowbrook, IL
59
30
89
+8
T20
Nick Quagliano
Bartlett, IL
59
30
89
+8
T20
David B. Lee
Waukegan, IL
60
29
89
+8
T20
Ryan Patera
Plainfield, IL
57
32
89
+8
26
Russell Matos
Lombard, IL
58
32
90
+9
T27
Kipp Imel
Burr Ridge, IL
60
31
91
+10
T27
Jack Troy
Naperville, IL
57
34
91
+10
T29
Christopher Beyer
Tinley Park, IL
65
27
92
+11
T29
Chad Arsich
Mokena, IL
58
34
92
+11
31
Ray Lee
64
29
93
+12
T32
Dustin Craig
Woodridge, IL
65
29
94
+13
T32
Dean Netzel
61
33
94
+13
34
Ken Zilka
Naperville, IL
61
34
95
+14
35
Matt Sheldon
Lockport, IL
63
33
96
+15
T36
James Bailey
Hinsdale, IL
63
35
98
+17
T36
Aldo Buffone
Schererville, IL
63
35
98
+17
T38
Jordan Gamelin
Naperville, IL
65
34
99
+18
T38
Craig Lederman
Downers Grove, IL
64
35
99
+18
T40
Joseph Fitzgerald
Downers Grove, IL
66
34
100
+19
T40
Alyna Vaughan
Aurora, IL
65
35
100
+19
T40
Anthony Noll
Pensacola, FL
63
37
100
+19
43
Gene Wensel
Darien, IL
70
31
101
+20
T44
Jon Strevell
Naperville, IL
68
34
102
+21
T44
Jack Smith
Woodridge, IL
65
37
102
+21
Place
Name
Residence
Rnd. 1
Rnd. 2
Total
Overall +/-
46
Kyle Soderstrom
Darien, IL
63
41
104
+23
47
Michael Walaszek
Downers Grove, IL
71
34
105
+24
48
Ryan Trembath
Chicago, IL
73
33
106
+25
49
Matthew Walaszek
Downers Grove, IL
74
35
109
+28
50
Harry Spataro
Downers Grove, IL
73
41
114
+33
T51
Larry Bielawski
Downers Grove, IL
85
40
125
+44
T51
David Walaszek
Downers Grove, IL
79
46
125
+44
53
Ed Czekaj
Western Springs, IL
92
45
137
+56
Withdrawls
WD
Mark Bermele
Evergreen Park, IL
57
–
57
+3
WD
Jerry Jobe
Darien, IL
62
–
62
+8
WD
Cody Staton
Steger, IL
63
–
63
+9
WD
Kenny Toigo
Bolingbrook, IL
65
–
65
+11
WD
Steve Brindle
Downers Grove, IL
69
–
69
+15
WD
Christopher Bertschy
Aurora, IL
71
–
71
+17
WD
Billy Barth
Chicago, IL
76
–
76
+22
WD
Ed Barth
Chicago, IL
76
–
76
+22
WD
Tom Heneghan
Downers Grove, IL
76
–
76
+22
WD
Jim Bristow
Oakbrook, IL
78
–
78
+24
WD
Darren O'Leary
79
–
79
+25
WD
Andrew Bertschy
Aurora, IL
80
–
80
+26
WD
Julie Cordes
Wauconda, IL
82
–
82
+28
Women's Division
1. Alyna Vaughan 35-30-35 / 100
Seniors Division (55-64)
1. Mark Arentsen 29-29-28 / 86
2. Burton Beyer – 89
3. David Lee – 89
4. Ray Lee – 93
5. Ken Zilka – 95
Super Seniors Division (65 and up)
1. Aldo Buffone 31-32-35 / 98
2. Jim Bailey – 98
3. Gene Wensel – 101
4. Harry Spataro – 114
High School Division
1. Russell Matos 30-28-32 / 90
2. Jack Troy – 91