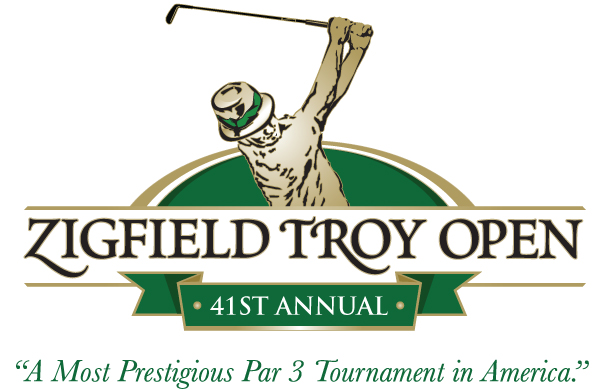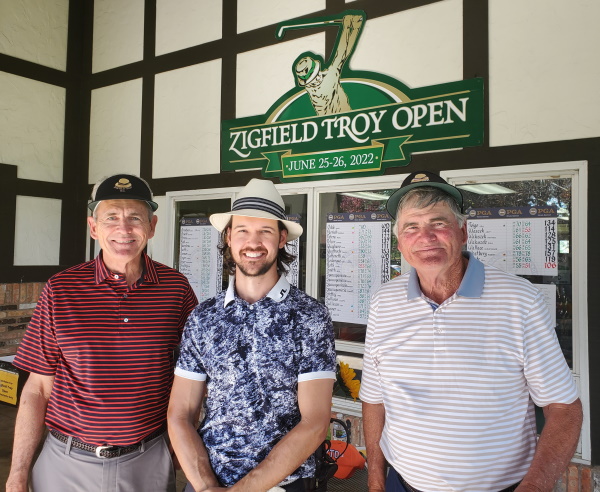 ---
The 2023 ZTO was June 24-25
Eligibility:
Entries are open to Professional or Amateur golfers with USGA handicap indexes not exceeding 24.4.  Handicaps shall be certified by the entrant's club official or Golf Professional.  Open to men and women having attained 16 years of age by June 24, 2023.  The Zigfield Troy Open Tournament Committee reserves the right to grant special exceptions to the above conditions.
Schedule:
18 holes on Saturday, June 24th and Sunday, June 25th.  Low score for 36 holes will be declared the champion.  In case of a tie, the champion will be determined by a sudden-death playoff.
Entries:
Entry Fee: $70.00.  The field is limited to the first 100 paid entries received by Monday-June 19, 2022, at 7:00 pm.
Rules of Golf:
Play will be governed by the U.S.G.A. Rules of Golf and as amended by the ZTO Tournament Committee.  All contestants will be expected to be familiar with the rules as violations will be penalized.
Practice:
A complimentary practice round will be allowed for each contestant at any time.  In addition, the course will be open only for contestants on Friday, June 23th from 5:00 to 6:30 pm.
Starting Times:
Please call the Pro Shop at 630-985-9860 or visit online at zigfieldtroygolf.com on Thursday-June 22nd for Saturday starting times.  Sunday's starting times will be determined by Saturday's scores, with the lowest scores teeing-off last.
Prizes:
The champion will receive the Zigfield Troy Straw Hat and an appropriate golf shop merchandise certificate.  Other high finishers in the Open Division will receive appropriate golf shop prize certificates, as well as the top finishers in the Women's, Senior's (ages 55-64), Super Senior's (65 and up) and High School Divisions.  Bag tags and golf caps will be awarded to all contestants. The total value of prizes awarded in 2023 was $3,600!
Contestant's Receive

: 
Every contestant receives a practice round, small basket of range balls each day, bag tag and golf cap.  All contestants are invited to lunch on Sunday in the clubhouse.
Location:
Zigfield Troy Par 3 Golf Course • 1535 75th Street • Woodridge, IL 60517
Call (630) 985-9860 for more information.
---
42 YEARS OF ZIGFIELD TROY OPEN CHAMPIONS
| Year | Champion | Hometown | Winning Score |
| --- | --- | --- | --- |
| 2023 | Michael Fastert | Wheeling, IL | 26-29-26-27 – 108 |
| 2022 | Jon Zolecki | Chicago, IL | 28-27-26-25 – 106 |
| 2021 | Jason Buffone | New Lenox, IL | 26-25-21 – 72 |
| 2020 | Jason Buffone | New Lenox, IL | 26-25-23-26 – 100 |
| 2019 | Jack Korzon | Downers Grove, IL | 23-23-27-27 – 100 |
| 2018 | Mitchell Davis | Valparaiso, IN | 26-27-28-26 – 107 |
| 2017 | Raymond Knoll | Naperville, IL | 26-24-24-27 – 101 |
| 2016 | Kelly Grassel | Chesterton, IN | 26-28-24-29 – 107 |
| 2015 | Ryan Grassel | Chesterton, IN | 26-26-28 – 80 |
| 2014 | Greg Roderique | Naperville, IL | 26-25-25-25 – 101 |
| 2013 | Raymond Knoll | Naperville, IL | 26-23-27-29 – 105 |
| 2012 | Sumeet Arora | Woodridge, IL | 21-26-28-27 – 102 |
| 2011 | Jason Buffone | Lockport, IL | 27-27-26-27 – 107 |
| 2010 | Jason Buffone | Lockport, IL | 27-25-26-26 – 104 |
| 2009 | Andy Roderique | Peoria, IL | 26-24-28-26 – 104 |
| 2008 | Paul Dagys | Oak Forest, IL | 27-23-26-28 – 104 |
| 2007 | Tim Cordes | Batavia, IL | 28-25-27-27 – 107 |
| 2006 | Josh Butterfield | Oswego, IL | 26-21-27-28 – 102 |
| 2005 | Andy Roderique | Aurora, IL | 26-26-26-24 – 102 |
| 2004 | Larry Brady | Barrington, IL | 27-25-27-30 – 109 |
| 2003 | James Troy | Clarendon Hills, IL | 27-29-30-25 – 111 |
| 2002 | Andy Roderique | Aurora, IL | 25-26-26-30 – 107 |
| 2001 | Dave Lee | Waukegan, IL | 27-26-26-27 – 106 |
| 2000 | David L. Griffins | Downers Grove, IL | 27-27-26 – 80 |
| 1999 | James Troy | Clarendon Hills, IL | 25-25-25-29 – 104 |
| 1998 | Mark Arentsen | Woodridge, IL | 25-28-27-26 – 106 |
| 1997 | Tom Sacco | Crest Hill, IL | 34-31-24-26 – 105 |
| 1996 | Ace Ellis | Lincolnshire, IL | 29-27-25-25 – 106 |
| 1995 | Andy Krajewski | Naperville, IL | 26-27-29-23 – 105 |
| 1994 | Mike Troy | Clarendon Hills, IL | 26-26-26-27 – 105 |
| 1993 | Rick Grassel | Plano, TX | 29-28-28-27 – 112 |
| 1992 | Jim Cavanaugh | Darien, IL | 30-25-29-28 – 112 |
| 1991 | Gary Beckman | Naperville, IL | 28-29-29-26 – 112 |
| 1990 | Bill Strauss | Mount Vernon, IA | 27-27-27-30 – 111 |
| 1989 | John Woronick | Palos Heights, IL | 29-27-24-26 – 106 |
| 1988 | John Woronick | Palos Heights, IL | 29-27-24-26 – 106 |
| 1987 | John Woronick | Palos Heights, IL | 25-26-27-26 – 104 |
| 1986 | Andy Krajewski | Downers Grove, IL | 29-24-28-27 – 108 |
| 1985 | Tom Sacco | Downers Grove, IL | 25-27-28-29 – 109 |
| 1984 | Joe Gorac | Clarendon Hills, IL | 28-28-31-30 – 117 |
| 1983 | Ken Brack | Clarendon Hills, IL | 28-26-29-28 – 111 |
| 1982 | Ken Boyce | Downers Grove, IL | 29-28-30 – 87 |